Acoustical Access Doors with industry leading sound properties.
Acu­d­or is proud to intro­duce our newest acousti­cal access pan­els, the ACF-2064 and ACD-2064. Iden­ti­fy­ing a need for supe­ri­or acousti­cal access doors with­in the con­struc­tion indus­try, we have designed these doors to pro­vide indus­try lead­ing sound prop­er­ties. Our acousti­cal access door pro­vide the high­est STC (Sound Trans­mis­sion Class) and OITC(Outdoor-Indoor Trans­mis­sion Class) rat­ings for any access door. These doors have been test­ed to ASTM: E90(09), ASTM: E413(16), ASTM: E1332(16) and cer­ti­fied to STC Rat­ing 64 and OITC Rat­ing 54. What this means is you can feel com­plete­ly con­fi­dent when spec­i­fy­ing or installing these acousti­cal pan­els in your project.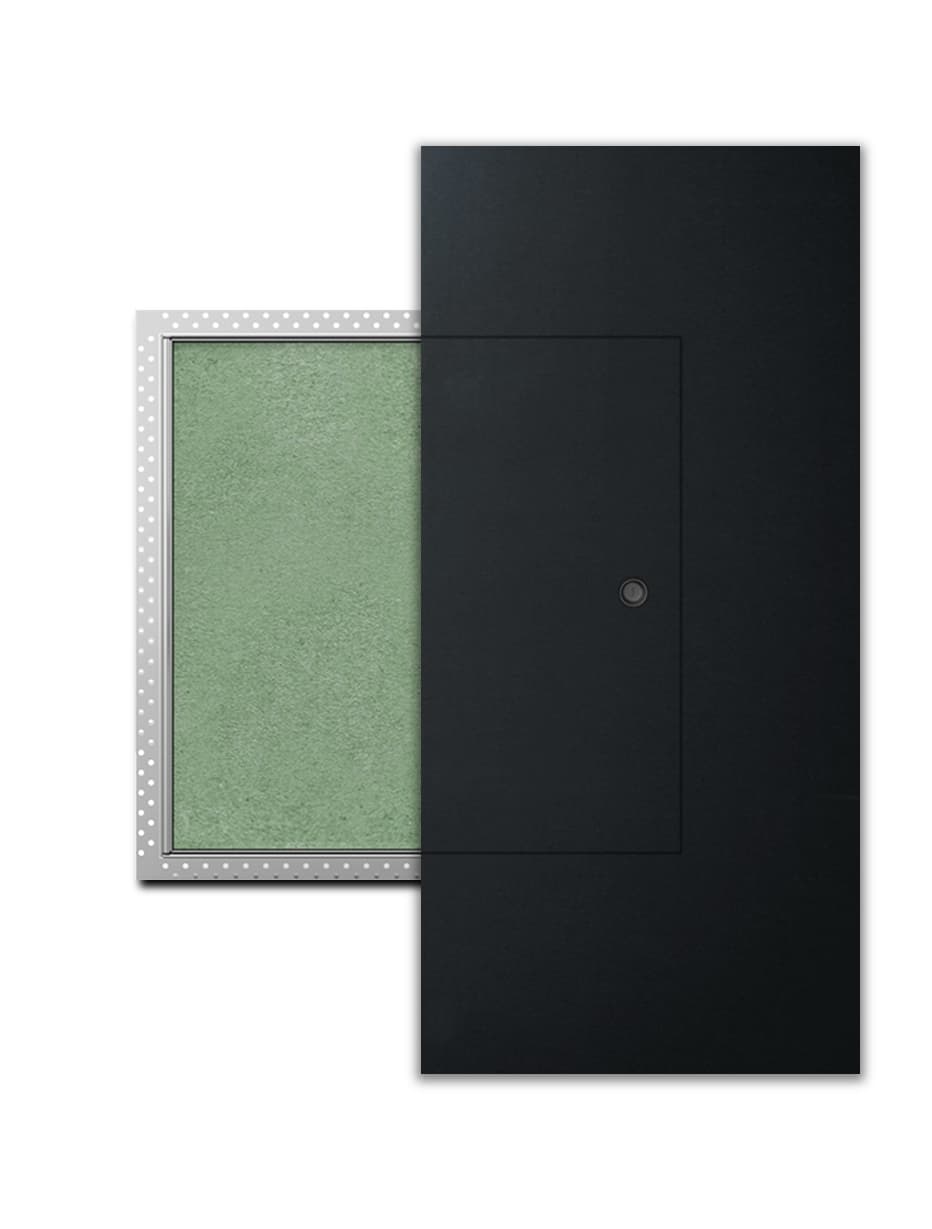 With two ver­sions of our acousti­cal access pan­els, you can be sure we have the right door for your appli­ca­tion. If you need a clas­sic look, our ACF-2064 is stan­dard with a flush met­al door and frame. If you need a more dis­creet and incon­spic­u­ous door, our ACD-2064 has a recessed door pan­el with dry­wall, to blend seam­less­ly into the wall or ceiling.
Both the ACF and ACD doors are built with the high­est qual­i­ty com­po­nents and mate­ri­als. This includes Satin Coat Steel doors and frame, Stain­less steel hinges, and an 18 gauge, press bent frame for strength and rigid­i­ty. Acu­d­or acousti­cal access doors are built to per­form, and built to last.
Stan­dard sizes for our acousti­cal access doors include 12×12, 16×16, 18×18, 24×24, and 24×36. Cus­tom sizes are also avail­able upon request.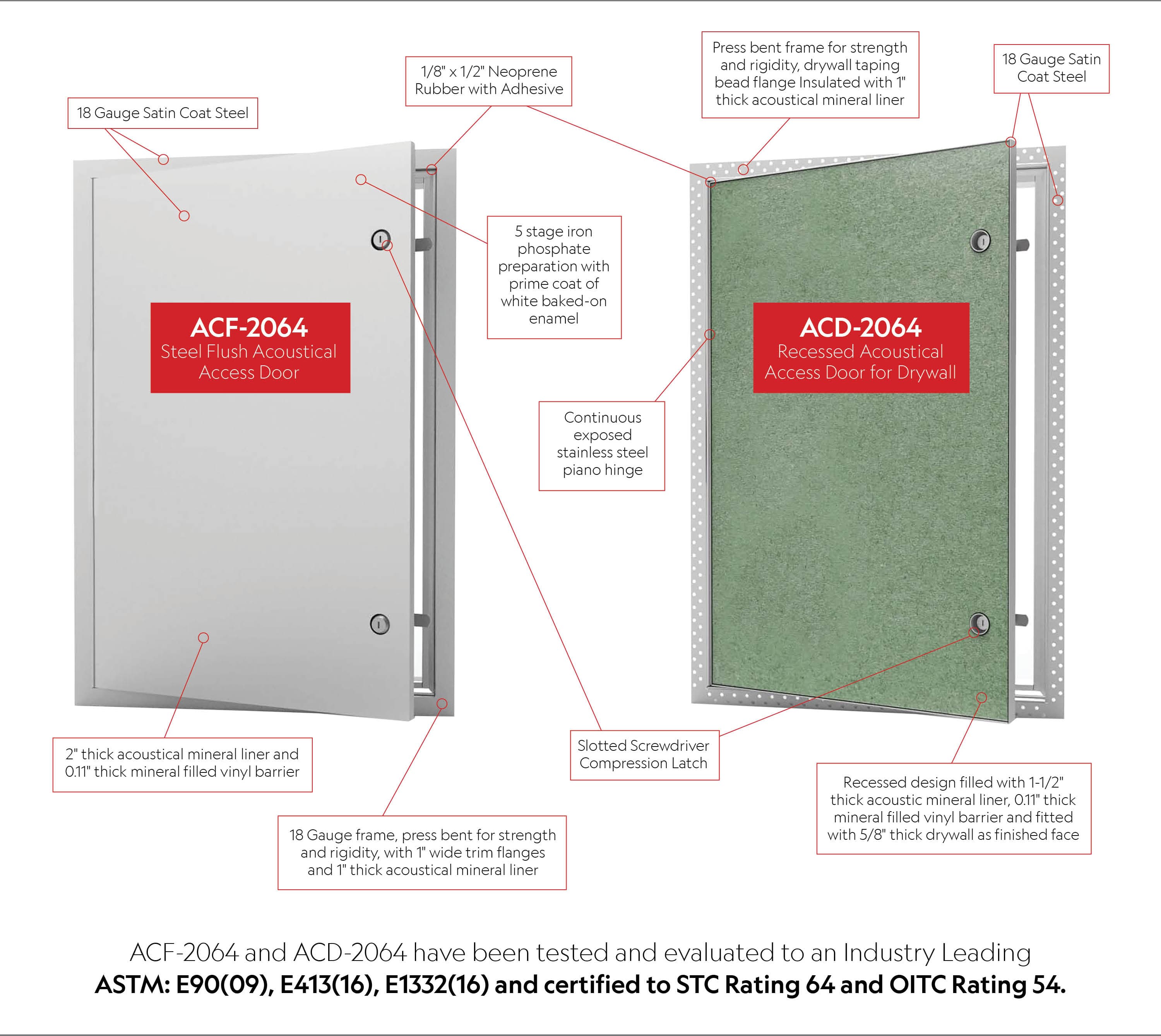 ---
TECH­NI­CAL SPECIFICATIONS:
ACF-2064
The Acu­d­or ACF-2064 is a steel, acousti­cal access door, ide­al for use on Acousti­cal walls and ceil­ings where main­tain­ing STC Rat­ing and OITC Rat­ing is required
Mate­r­i­al: 18 Gauge Satin Coat Steel
Door: 18 Gauge, encap­su­lat­ed design with 2" thick acousti­cal min­er­al lin­er and 0.11" thick min­er­al filled vinyl bar­ri­er
Frame: 18 Gauge, press bent for strength and rigid­i­ty, with 1" wide trim flanges and 1" thick acousti­cal min­er­al lin­er
Gas­ket: 1÷8" x 1÷2" Neo­prene Rub­ber with Adhe­sive.
Hinge: Con­tin­u­ous exposed stain­less steel piano hinge
Stan­dard Lock: Slot­ted Screw­driv­er Com­pres­sion Latch
Option­al Lock: Torx head with secu­ri­ty pin
Acoustic Rat­ing: This door has been test­ed and eval­u­at­ed to ASTM: E90(09), ASTM: E413(16), ASTM: E1332(16) and cer­ti­fied to STC Rat­ing 64 and OITC Rat­ing 54
Fin­ish: 5 stage iron phos­phate prepa­ra­tion with prime coat of white baked-on enamel
ACD-2064
The Acu­d­or ACD-2064 is a recessed, acousti­cal access door, ide­al for use on Acousti­cal walls and ceil­ings where main­tain­ing STC Rat­ing and OITC Rat­ing is required
Mate­r­i­al: 18 Gauge Satin Coat Steel
Door: 18 Gauge recessed design filled with 1ó" thick acoustic min­er­al lin­er, 0.11" thick min­er­al filled vinyl bar­ri­er and fit­ted with 5÷8" thick dry­wall as fin­ished face
Frame: 18 Gauge, press bent for strength and rigid­i­ty, dry­wall tap­ing bead flange Insu­lat­ed with 1" thick acousti­cal min­er­al lin­er
Gas­ket: 1÷8" x 1÷2" Neo­prene Rub­ber with Adhe­sive.
Hinge: Con­tin­u­ous exposed stain­less steel piano hinge
Stan­dard Lock: Slot­ted Screw­driv­er Com­pres­sion Latch
Option­al Lock: Torx head with secu­ri­ty pin
Acoustic Rat­ing: This door has been test­ed and eval­u­at­ed to ASTM: E90(09), ASTM: E413(16), ASTM: E1332(16) and cer­ti­fied to STC Rat­ing 64 and OITC Rat­ing 53.
Fin­ish: Satin Coat Steel