When it comes to cus­tom access prod­ucts, Acu­d­or con­tin­ues to show why they are the leader in the indus­try. Across the globe, our exem­plary prod­ucts have been pro­vid­ing solu­tions for even the most intri­cate and chal­leng­ing projects. Our cus­tom fab­ri­ca­tion abil­i­ty allows us to cov­er a wide range of appli­ca­tions with­out com­pro­mis­ing the qual­i­ty of our products.

In a recent job, Acu­d­or was respon­si­ble for pro­vid­ing three over­sized, cus­tom hatch­es. Each hatch required a clear open­ing size of 96" x 96", approx­i­mat­ing an over­all size of 117" x 117". These cus­tom hatch­es were fab­ri­cat­ed for the Ope­quon Water Sup­ply Water Treat­ment Plant, locat­ed in Stephen­son, VA. The treat­ment plant was designed to help sup­ply clean water to the res­i­dents of Fred­er­ick County.
These over­sized hatch­es will serve as access points for heavy water fil­tra­tion equip­ment to be craned in and out. Once the project has been com­plet­ed, the facil­i­ty will be respon­si­ble for giv­ing access to near­ly three bil­lion gal­lons of high-qual­i­ty water to the com­mu­ni­ty it serves.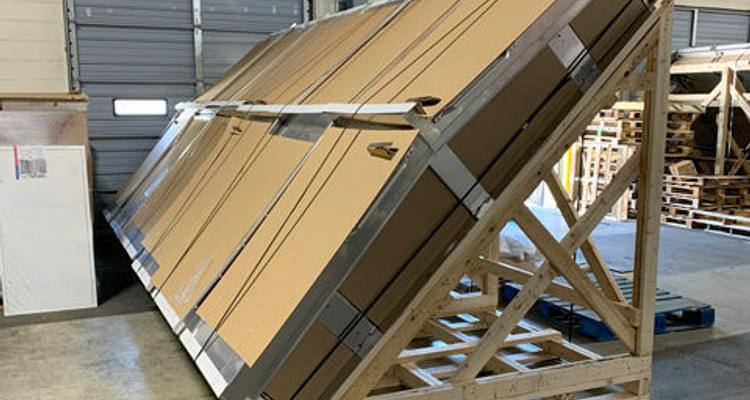 Acudor Oversized Hatch Ready to Ship
To ensure that these three over­sized hatch­es arrived in per­fect con­di­tion to the job­site, we mount­ed them on cus­tom wedge-shaped pal­lets, which would then fit in a tra­di­tion­al 40 ft. truck. This pal­let design would not only be stur­dy, but also offer easy maneu­ver­abil­i­ty while on a stan­dard fork­lift. Acudor's team has been invest­ed in ensur­ing that all aspects of the hatch­es' cre­ation, trans­porta­tion, and appli­ca­tion are seamless.

For more infor­ma­tion about our cus­tom fab­ri­ca­tion, or addi­tion­al Acu­d­or prod­ucts, con­tact us today.